There are a variety of dog training programs available online, each claiming to provide the best dog training methodology. Below you'll find our recommendations for dog training programs which have proven their excellent value to tens of thousands of satisfied dog owners.
Doggy Dan, The Online Dog Trainer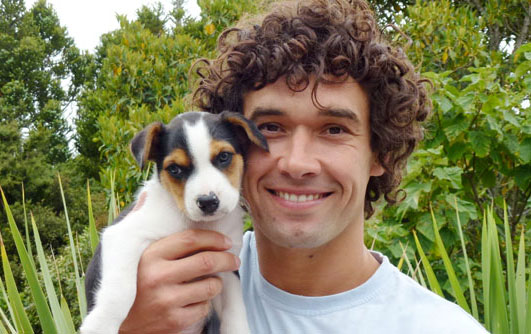 Doggy Dan's Online Dog Trainer is the only online video-based dog training website that is endorsed by the SPCA and updated weekly by a professional trainer. The training techniques offered in Dan's program are gentle, simple to apply, and result in instant changes to the dog's behavior.
The program doesn't use any harsh or harmful methods, such as electric shock collars, sprays, force, fear, or shouting. Instead, it promotes becoming the leader of the pack, building trust and displaying a confident and calm attitude towards your dog.
Through the videos, owners learn to understand their dogs by revealing how a dog sees the world and perceives humans. The course is suitable for dogs of any age or breed and can be used by owners with any level of experience.
The more than 150 training videos which are neatly structured in different dog training sections and demonstrate everything that dog owners need to get started immediately with their training.
Secrets to Dog Training
The Secrets to Dog Training is a dog training program offered by The Kingdom of Pets and is rated number one on Top Consumer Reviews. This system is said to have solved diverse dog training problems for the owners of over 200,000 dogs.
When you sign up for the Secrets to Dog Training program, you will get a 6-day internet course, the Secrets to Dog Training e-book and a 30-minute video program. The program not only addresses obedience lessons such as sit, stay and come, but also other common dog behavior problem such as barking, chewing, leash pulling and aggression.
Cesar Millan, The Dog Whisperer
Probably the most famous dog trainers out there is Cesar Millan, the Dog Whisperer.
In Cesar Millan's dog training programs on DVD this television celebrity and dog behaviorist talks more about general relationships between dog and human and less about sit and stay. Milan insists that dogs must first have exercise, discipline and affection in that order before you can fully address any behavioral issues.
His methods will help the dog become balanced so that many of the typical dog problems that come from anxiety or restlessness simply fade away.
Millan also urges dog owners to assume the calm assertive aura that lets the dog know that you are the pack leader and should thus be obeyed.
Cesar has written several dog training books and offers several other useful dog training products.
You can also sign up for a personal 5-day class with Cesar, but be prepared to pay a steep fee.
Whichever training method you choose, you should look for training that uses positive reinforcement rather than physical punishment, and advocates praise to create a good bond between you and your puppy. All training requires patience and consistency. Ultimately the perfect dog training system is the one that works for you and lets you and your puppy forge a great friendship made up of mutual love and respect.